Outreachy applications are open!
"Apply" photo is CC-BY 2.0 GotCredit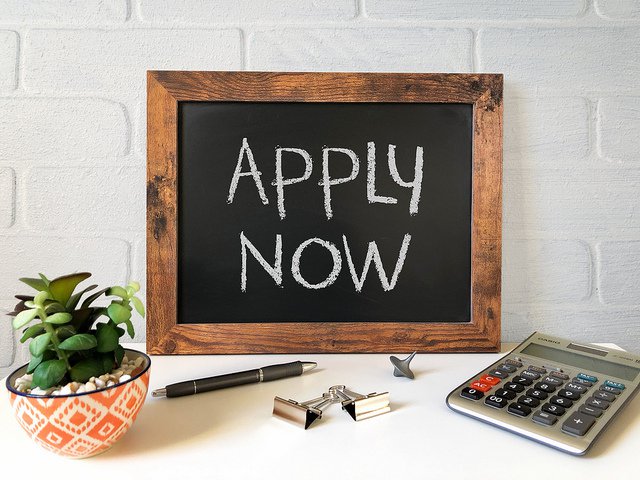 The Outreachy internship application period will open on Monday, February 18 at 4pm UTC! Here's everything you need to know to get ready to apply.
If you want a TLDR; summary, here's what this blog post talks about:
What is Outreachy?
What if I can't apply this round?
What's the application process like?

Check back for projects until March 12

Apply to Google Summer of Code if you're eligible
Changes to student eligibility rules
New essay question on the initial application
What is Outreachy?
Outreachy provides three-month internships to work in Free and Open Source Software (FOSS). Interns are paid a stipend of $5,500 and have a $500 travel stipend available to them. Outreachy internship projects may include programming, user experience, documentation, illustration and graphical design, or data science. Interns often find employment after their internship with Outreachy sponsors or in jobs that use the skills they learned during their internship.
Outreachy internships are open to applicants around the world. Interns work remotely with mentors from FOSS communities.
Outreachy expressly invites women (both cis and trans), trans men, and genderqueer people to apply. We also expressly invite applications from residents and nationals of the United States of any gender who are Black/African American, Hispanic/Latin@, Native American/American Indian, Alaska Native, Native Hawaiian, or Pacific Islander.
Anyone who faces under-representation, systemic bias, or discrimination in the technology industry of their country is invited to apply.
What if I can't apply this round?
We've made some changes to the student eligibility criteria, and we know some students may not be eligible for this round. Luckily, Outreachy runs twice a year, May to August and December to March. If the timing of this internship doesn't work for you, please apply next round!
What's the application process like?
You can read about our five-step Outreachy application process:
Fill out an initial application.
Once that's approved, pick a project from the project list.
Make a contribution to that project. (If you're wondering what a contribution is, read more here.)
Record in-progress contributions.
Create a final application before the project deadline.

For the December 2018 to March 2019 round, we had Outreachy interns blog about their application process. You should read past interns' tips for applying.
We also recommend the following resources that will help you understand Free and Open Source Software in general:
"Forge Your Future With Open Source" by VM (Vicky) Brasseur
GitHub's introduction tutorials. Many communities participating in Outreachy use a tool called git to keep track of changes to their project. Some projects use a git hosting website called GitHub to submit changes to their project. The GitHub tutorials will help you understand some git basics.
Projects are trickling in
Check out our current list of internship projects. While the application period opens February 18, not all projects will be available then. Projects can be added until March 12. Outreachy typically has around 60 projects each round. If you don't see a project that interests you, check back each week. You can read the resources linked above to get a head start on the skills you'll need to contribute to a project.

Sign up for the announcements mailing list to get a weekly email about new projects and upcoming deadlines.
Apply for Google Summer of Code
Google Summer of Code is another internship program for people interested in contributing to free and open source software. Google Summer of Code (GSoC) is a separate program from Outreachy. Outreachy aligns our application process with GSoC's so that we can encourage eligible applicants to apply to both programs.
   
Google Summer of Code is an internship program for university students.  Outreachy is open to both students and people who aren't students.  Anyone who meets our eligibility rules can apply to Outreachy. Each program has a separate application process. You don't have to apply to Google Summer of Code in order to apply to Outreachy.
   
Many organizations only participate in Google Summer of Code, or only in Outreachy. Sometimes organizations participate in both programs.  That means you can apply to the same community under both Outreachy and Google Summer of Code. You'll have to fill out application forms for both programs, as they separate application processes.

Please be aware that if you apply to the same organization under Google Summer of Code and Outreachy, there is a preference for the organization to accept you under Google Summer of Code.  That's because Google pays for the Summer of Code intern's stipend, whereas communities provide their own funding for Outreachy interns.

If you're accepted under Google Summer of Code rather than Outreachy, you may be paid a smaller stipend.

If you apply to both programs, you'll have a greater chance of being accepted as an intern, but you risk being paid less. You should carefully consider what's right for your financial situation.
Changes to student eligibility
The Outreachy organizers have simplified the eligibility rules for students. If you are a student in a school in the Northern Hemisphere, you will only be eligible for the May to August round. If you are a student in a school in the Southern Hemisphere, you will only be eligible for the December to March round. If your school is near the equator, you may apply to any round. All students must have at least 49 consecutive days free from full-time commitments. If you are completing your last term for your degree, you may be eligible, and we encourage you to submit an initial application.

We'll ask some questions about the start and end dates of your terms. You'll need to provide a URL to a public official school calendar. Linking to a public calendar from last year is acceptable if the next term's calendar is unavailable.

We understand that some schools don't have their school calendars available on a public website. In the past, we have relied on unofficial school calendars that students have uploaded to file hosting services. Unfortunately, some students last round edited the official school calendar PDFs to modify their school dates. That means we cannot rely on the unofficial school calendars. This led us to create the rule about which round students could participate in based on which hemisphere their school is located in.

We also found that verifying the number of classes (credits) a student was too much for our small staff to handle. Additionally, many school systems around the world don't have the concept of class credits. They may call it ECTS, or class hours, but there's no universal term for a unit of classes. Our staff often had to answer questions from students who were confused about what a school credit was, or how to translate their school's class unit structure into credits.

This lead us to simplify the initial application. We no longer ask for credits. We no longer consider whether students are part-time. We no longer take into account the number of thesis credits graduate students are taking. We no longer take into account if a student is getting school credit for an Outreachy internship. We process all students as if they were full-time students. We hope this will cut down the amount of time it takes our staff to process initial applications for students.

Please note that providing false information on your initial application, including leaving off school information, is against Outreachy's Code of Conduct. You may be excluded from participating from Outreachy if we find the time commitment information on your initial application is incomplete or incorrect. We expect applicants to start their relationship with a potential employer with honesty.
Changes for self-paced online students
Outreachy recognizes that many people take online coding courses. Often times these courses are self-paced, and can be stopped and restarted at any time. Many people are willing to stop their online courses if they are accepted as an Outreachy intern. In the past, we evaluated applicants' time commitments by assuming they couldn't quit their online course. Our initial application form now allows people to tell us they'll quit an online course, and the course won't impact their time commitment evaluation.

Additional essay question
Outreachy asks essay questions in order to allow applicants to be able to share their experiences. This round, we've added an additional essay question to ask whether applicants have faced (or think they will face) employment discrimination. We recognize that many people are able to learn in self-paced, online environments where they may be able to avoid discrimination. However, they may still face discrimination on the basis of their identity or background when they go to apply for a job. We've added an additional essay question to allow applicants to talk about their experiences with or concerns about employment discrimination.
Project system requirements
Outreachy applicants often run into issues getting a contribution environment set up for the Outreachy projects. They may try to install or compile the project, only to have their computer run out of memory or hard drive space. The Outreachy website now asks mentors to list what the minimum system requirements are for their project. We hope this will help interns find a project that fits the capabilities of their computer.

Good luck applying!
The Outreachy team may be overloaded with questions, so the best way to find out if you're eligible is to fill out the initial application. If you have other questions, you can contact the Outreachy applicant helpers.